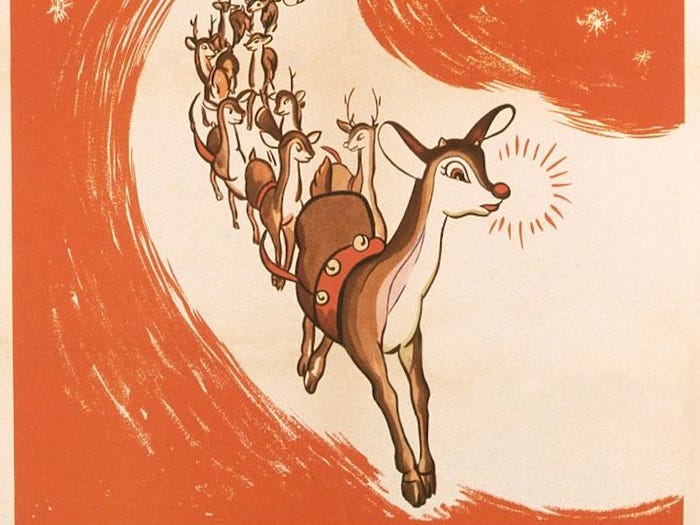 Christmas is important to me. Religious elements set aside, I look forward to having valuable time with my family. It is a chance to breathe and just snuggle with those you love. For me, three elements put me in the holiday spirit; snow, a warm fire, and Christmas Carols. And no carol rings more true (aside from White Christmas) to my youth than that of my most beloved reindeer – Rudolph.
It's easy to assume that our favorite reindeer has been around as long as, well… as long as the story of Santa Clause. But, we would be mistaken. In fact, Rudolph hasn't even turned 100 years old yet (where the story of Santa Clause dates back in the U.S. to 1773 and even back to St. Nicholas in 280 A.D.). Like all good Christmas stories (think "A Christmas Story" with Ralphie), Rudolph starts in a department store in the late 1930s.
Robert L. May was a writer for Montgomery Ward, a Chicago-based department store that was popular in the twentieth century. He had dreamed of being the great American writer since he was a child but ended up writing catalogs for the famous department store. Montgomery Ward gave out children's coloring books to their customers. The store tasked May with writing a unique poem that could be included in their Christmas edition book for the children and Rudolph the Red-Nosed Reinder was born.
May actually considered calling the reindeer Rollo or Reginald but eventually settled on Rudolph. Robert saw a lot of himself in Rudolph and considered himself a bit of a 'misfit', having been bullied and skipping a couple of grades in school. He ended up being the youngest of his graduating class and felt like he didn't connect with a lot of people. So he worked to make sure that Rudolph was relatable in this sense.
A few years later, his brother-in-law, who was a songwriter, helped him put the story to song form and it was picked up in 1949 by the famous cowboy Gene Autry and Rudolph became our legendary little furry friend. Interestingly, Autry did not want anything to do with the song, but his wife convinced him that he should sing it. As luck would have it, it became the second biggest-selling Christmas album (next to Bing Crosby's "White Christmas").
In 1964, the song gained even more fame as the Burl Ives played the walking, talking snowman and told the story of Rudolph in the stop motion animation Rankin/Bass Productions' Christmas television special.
Since then there have been more than 475 versions of the song released and the story has been translated into 25 languages.
Here is the very first, the original story of Rudolph the Red-nosed Reindeer from Montgomery Ward: https://amzn.to/3NMw9bT
So, yes – Rudolph may go down in history, but so far, he's still a young Reindeer (at least compared to the other reindeer 😉 )