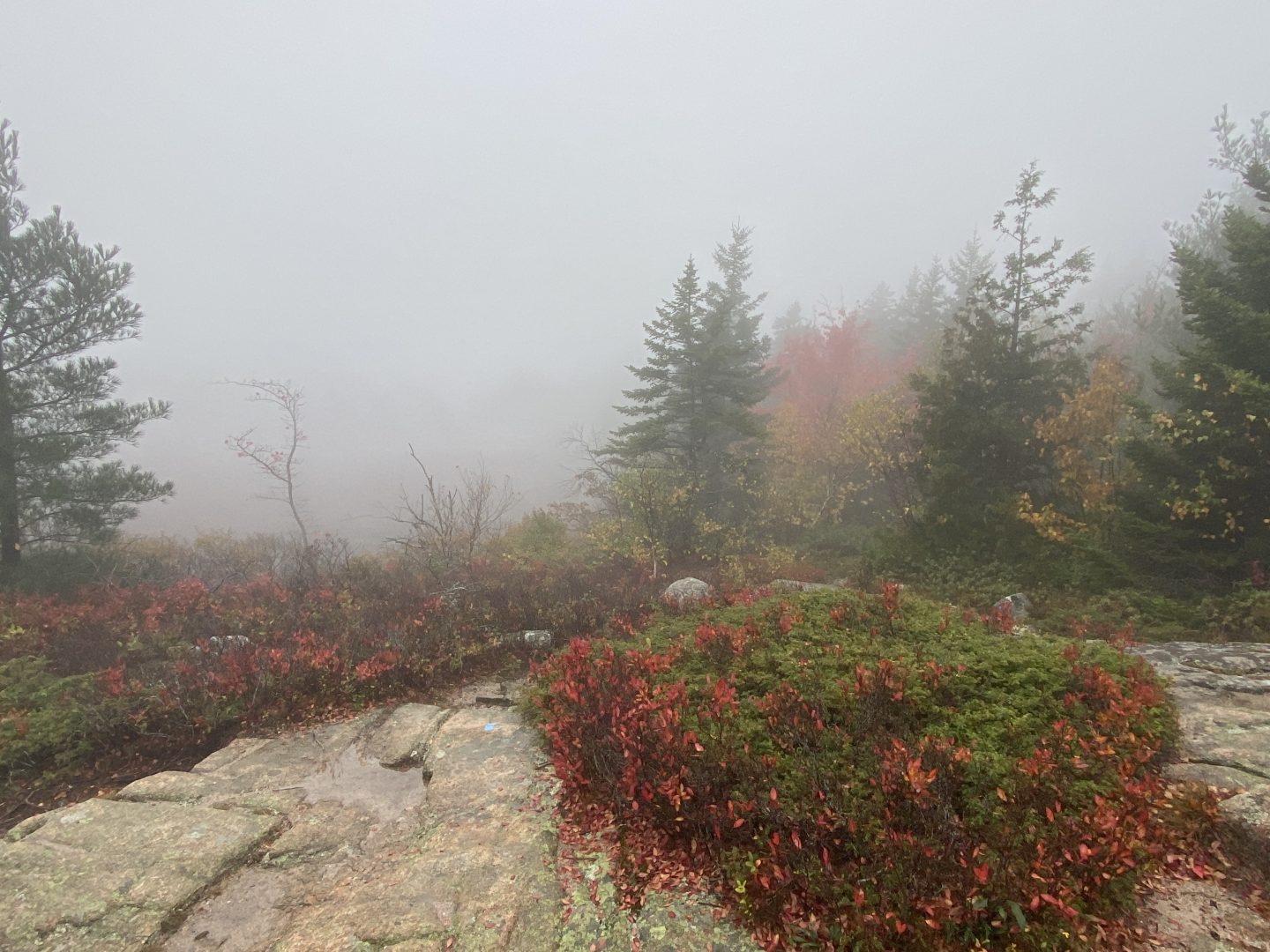 We do an annual trip to Bar Harbor every year around the second weekend of October. The goal being: to see the leaves, enjoy the sites and just feel the fall of New England and nothing says autumn like Maine in October.
The past few years we have concentrated on trying to hike more and not just drive around Acadia National Park.
Last year's endeavors led us through the following climbs:
and a trek along Jordan Pond, ending with a couple of warm pop-overs and a cup of coffee.
One thing we do every year is drive up to the top of Cadillac Mountain, often with a cup of coffee, sitting at the top just soaking in the sunshine and enjoying the view.
This year we decided to do something a little different; Hike up to Cadillac Mountain. We got our change of clothes in the backpack, ordered our sandwiches to go from Down East Deli (they have awesome boxed lunches), drove over and picked them up, and headed into the park. Twenty minutes later we were at the trailhead of the South Ridge Trail right next to Blackwoods Campground. There really isn't a parking area, you just sort of park along the road on Route 3 just outside Otter Creek Village.
Just about the time, we were starting on the trail, the rain started. We knew it was going to rain but were not about to let a few drops of rain stop us from conquering this mountain. The rain however knew that it had found two suckers to soak on our 6-mile round trip loop.
The trail was very well marked the whole way, but what we failed to take into account was how much cloud cover there would be on this dreary October day. By the time we reached the treeline, we were soaking wet and visibility was down to about twenty feet (yes, it was that thick). However, we were determined to complete our hike, and about an hour and a half after we began our journey we emerged near the gift shop, and the wind was insane. We weren't about to let some silly wind hamper our boxed lunch though. So we walked over to the summit and looked out at the vastness. Vastness of white. It was a solid white cloud with near-zero visibility and it was at this point that I nearly got blown over. We laughed and said, "Well, at least it's not raining anymore!"
We should have kept our mouths shut, no sooner did I utter those words, that the sideways rain began to pelt us with more high winds. Yep, it was time to head back down. The trip back was actually very nice. No rain and the wind was gone by the time we got off the summit, plus we met Alex, a nice fellow hiker visiting from Virginia. We all chatted and enjoyed the hike together for the rest of the way down and parted ways at the bottom.
Did we get soaked? Yep. Could we see anything that we were hoping to, beautiful vistas, the ocean, Bar Harbor, the colorful trees? No. We couldn't see more than right in front of us until we were about 1.5 miles from the trailhead. Was it worth it? Hell yeah!
The South Ridge Trail is a very nice moderate hike with a good mix of beautiful forest (even in the rain), granite faces with a very gradual grade, and a lot of tree roots (so be careful). Highly recommend this climb to even the beginner hiker. Just make sure you bring a change of clothes, several layers of clothes, and some water.