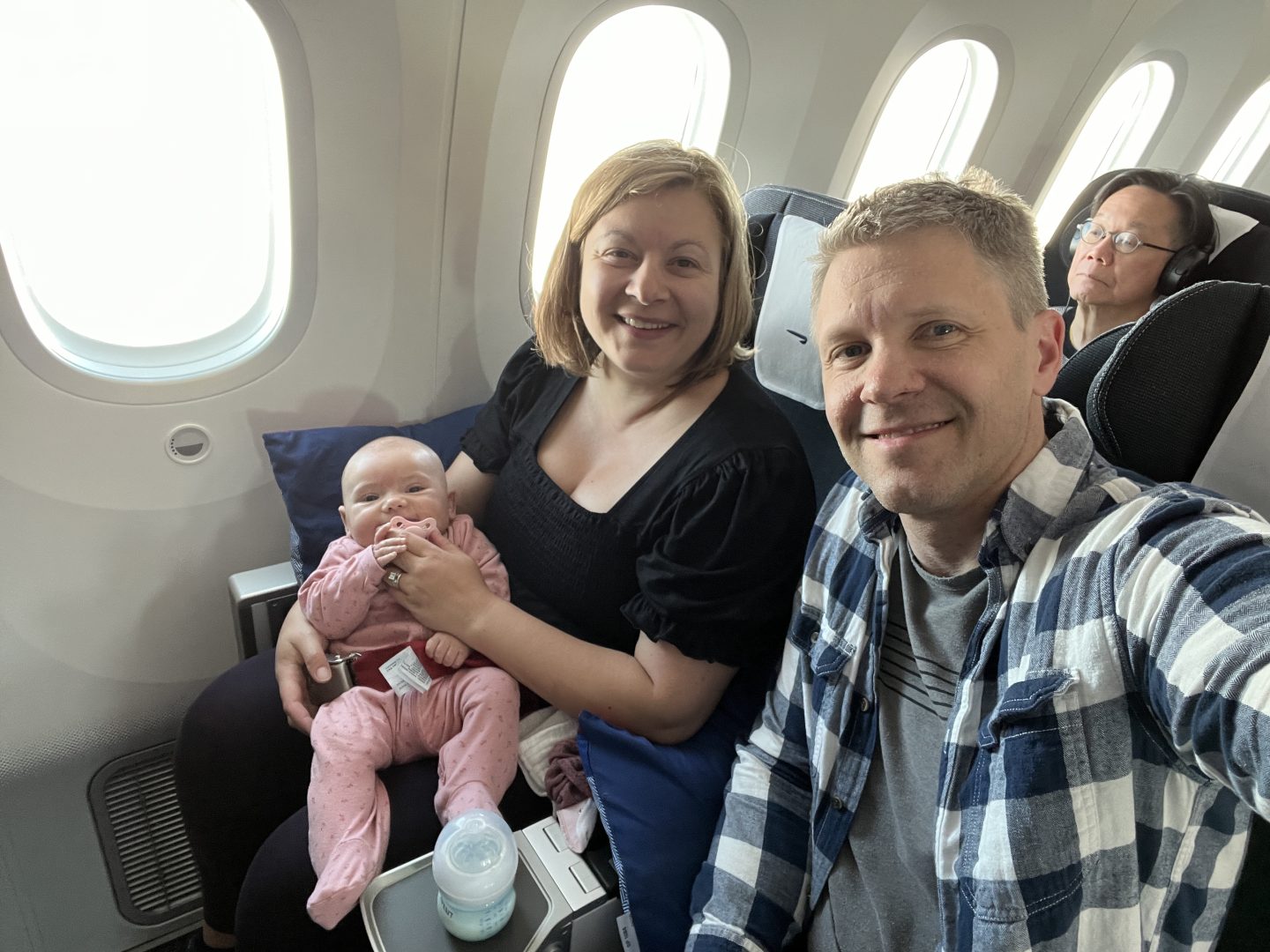 This June, we decided to embark on an adventure with our four-month-old and we crossed the Atlantic to visit Grandma, Auntie, and a few cousins in Bulgaria. The prospect of this trip scared the hell out of us. So, figured it couldn't hurt to dispense some of our experiences to you.
Passports – Let's face it, traveling internationally is going to be pretty difficult if you don't have a passport. My biggest advice with this? Apply as soon as your child is born. Do not delay. As of the writing of this article, routine passport processing time in the U.S. is 10-13 weeks, and expedited (where you pay an additional couple hundred dollars) is 9-12 weeks.
U.S. Passport Processing Times: https://travel.state.gov/content/travel/en/passports/how-apply/processing-times.html 
Don't forget to make sure your own passports are up to date.
Strollers and Airlines – When our little girl was born, we got a jogging stroller that our car seat locks into. Great for local travels around and working out, but not so good for international travel. It's heavy, bulky, and takes time to pack up. We needed something small, light, efficient, and quick to maneuver in all aspects. Keep in mind, cars in Europe are much smaller, so storage car real estate is critical. We found this great stroller by Graco which not only interfaces with our existing Graco Snug Ride car seat but it also comes with a pram (sort of a bassinet in the stroller). This was fantastic for the long walks in Europe. (for the record, we checked the pram part in a large suitcase)
When taking your stroller on the airline, you cannot simply walk to go to the gate and hand them the stroller. There is a little bit of a process.
When you check in (or drop off your bags), let them know you want your stroller delivered at the gate when you arrive at each airport (even for connecting flights). This is important: Ensure they give you tags for the stroller and car seat that say "Deliver at Aircraft." Most airlines put bright-colored tags on them so they cannot be missed. We strongly suggest you get these stroller bags and car seat bags. You disconnect the car seat from the stroller and put them in their respective bags when you get to the end of the jetway or to the aircraft's stairs. The bags fold up very small, can be stowed beneath the stroller when not being used, and keep your stroller clean and unscuffed.
Going through security  – You know that rule about no liquids when going through security? Well, it doesn't really apply the same for those of us who have babies. People traveling with infants are allowed to carry breast milk, water for formula (which we keep in a metal thermos), baby medication, and ice packs. They will usually want to test the fluids, but it is not difficult.
You can absolutely go through security with your stroller and infant without a problem. They will want you to break down the stroller and send through the parts that can go through the X-Ray. The things that won't (like the larger part of the stroller) you will need to hand to security staff, and they will scan with a hand wand and sample with test strips to ensure there are no explosives in it. The infant gets carried through the walk-through metal detector. You may have to hand the baby to your partner who has already gone through depending on the airport.
All in all, the process is not hard. But depending on the location (cough, cough, Heathrow), it may be painful.
Bassinets on the Airlines – Almost all airlines will provide you with a free bassinet for your infant. However, you must have a bulkhead seat. So make sure when reserving your seat that you choose one at the front of your cabin. If the seats are already taken, call the airline and explain that you have an infant and need a bulkhead, and they will try to work with you. A fair warning, the basinetts (at least on British Airways) are small boxes that are padded. They were tight for our four/five month-old. I'm not sure if they have larger options.
Pumping, breastfeeding, and changing diapers on Airlines – Pumping, and breastfeeding are not really a problem. You can do it in your seat. However, depending on your comfort level, you may want to get a nursing cover; there is no privacy. My wife found the pumping bra to be very helpful.
Diaper changing, on the other hand, is not so easy. Airlines generally require all diaper changing to be done in the lavatory. They are sometimes very dirty and trying to do this when you have a wet or poopy infant that you're trying to keep mostly asleep, and there is a line, it can be extremely frustrating. But it is what it is.
Diaper changing and nursing in the airport – Some airports have nursing rooms, but in our experience, there are either not enough of them, they are dirty, or there is a line to get into them. They really are not comfortable for nursing or pumping (especially when you have a line at the door).
At the airports, we saw no changing tables in any of the public restrooms. It was extremely frustrating. You could only change diapers at the designated nursing rooms, which were frequently too busy, which left us to find a secluded seat near a gate or in a public seating area.
The bare facts – Traveling with an infant is not nearly as bad as we thought it might be as long as you plan ahead. Two very important facts I don't want to forget to include:
Don't bring too much. It's very tempting to bring extra diapers and every baby comfort you can possibly think of. But let's be real; they have diapers and wipes worldwide. Also, most hotels and Air B&Bs have pack-n-plays, bassinets and will do everything possible to help you.
If you need to rent a car, make sure you rent a car that is large enough. We all know babies take up more room than we do.
So get out there, travel the world, and show your baby everything you can. Don't use parenthood as an excuse to stay at home.