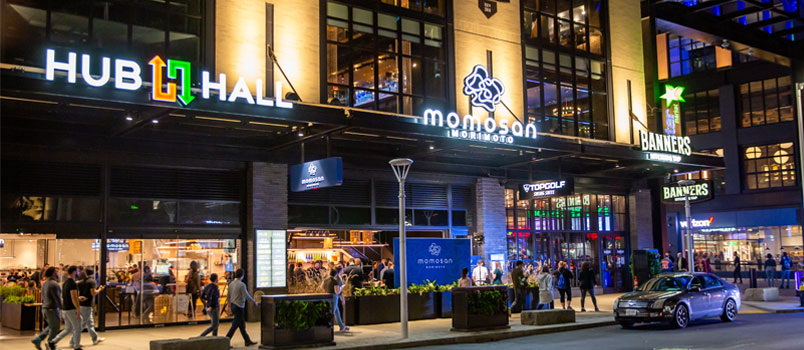 If you're a foodie and have traveled through North Station, you'll know that it has seriously lacked a decent selection.
I have been traveling through North Station in Boston for twenty years and for almost all of that time people had two to four choices for food when waiting around for your train, McDonald's (which I won't eat unless I'm absolutely starving) and Dunkin Donuts (which is okay, but seriously lacks variety for anything beyond breakfast – especially health-wise).
I am very pleased to say that this choice has changed. With the new building that has been constructed next to North Station, a wonderful new addition has been the inclusion of Hub Hall Boston, a food court with a phenomenal selection of food and drink. I have stopped by several times and at first, I was very pleased with Grecco, a Greek eatery (the Grecco fries smothered in feta are a MUST have). I am continuing to try all the various choices at Hub Hall. I still have several I have yet to try but some of my favorites so far are Sauce Burgers, where you can grab a spicy or juicy custom-built burger (my favorite being the Cry Baby Burger); Boston Soup Co. which has an awesome New England clam chowder. And of course, you can't end your meal without a classic North End treat at Mike's Pastry. I will say that I have tried Reelhouse Oyster (as I am an oyster aficionado), and although they have a fantastic selection of oysters, their prices have a lot to be desired. I do wish they had a buck-a-chuck time happy hour.
To top all of this off, you can add a good local craft brew or a wonderful glass of your favorite grape at The Draft House or Now Pouring – Wine Bar. Personally, I hope that The Draft House will get my new favorite non-alcoholic beer Athletic Brewing Company. That will just be the pièce de résistance to an already awesome selection.
I'm looking forward to soon trying Momosan Ramen and Nacho Taco among many of the other choices.
In short, it is wonderful to have such an amazing eatery available at a location that is central for travel, sports, and events. Hats off to Hub Hall Boston and I do hope we will see a lot more of these types of eateries opening around town.